SuiteBox Lunch and Learn – Reston VA
What is SuiteBox?
SuiteBox is a digital workspace designed to facilitate the business relationship between professionals and their clients or customers. SuiteBox is a secure online virtual environment for any business that may need to document their interactions with others. The SuiteBox secure web meeting room goes beyond the traditional face-to-face meeting, allowing participants to collaborate even when their schedules do to permit a live meeting.
With SuiteBox, your organization can:
Meet real time with clients in a secure web meeting room.

Schedule and attend meetings in your virtual meeting room 7 days a week and 365 days a year.

Have all documents and disclosures presented in real time as they are being discussed by your staff, acknowledged, and signed real time by your client(s).

Have full documentation of the meeting complete with video/audio of all parties and video capture of all document execution available for recall from your complimentary SuiteBox cloud account at any time.

Automatically receive:

An audit transcript at the end of each meeting showing the meeting attendees' information,

The signing method used for documents in the meeting,

A chronological date/time stamp of each transaction that occurred during the meeting and

The video link where the meeting recording is stored in your cloud account.

Have peace of mind knowing that your meetings and documents are fully encrypted end-to-end to ensure protection and privacy of information
SuiteBox can be integrated tightly into a company's existing business process and existing applications, providing an unparalleled digital business experience. The transaction is conducted securely and control over documents can be passed between participants, enabling online evidential "signing" which cannot be repudiated. The SuiteBox Digital Signature Framework leverages established digital signing protocols supplemented with an additional level of identity evidence and security through the recording of the signing process and the video/audio capture of the signing parties.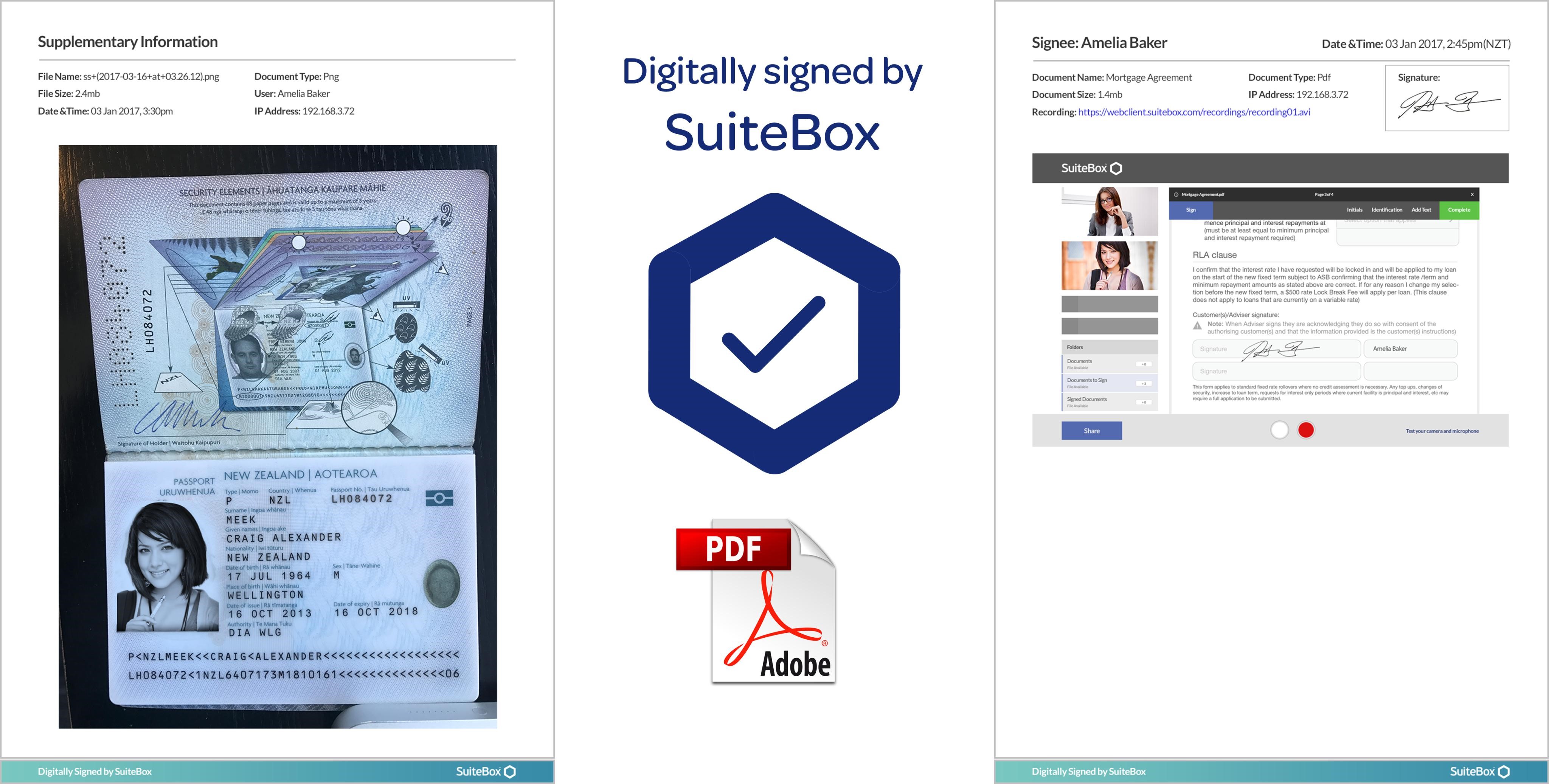 The host's and their customers' user experiences are simple, intuitive and elegant within the secure web meeting room.  A typical meeting may be between an adviser using a desktop bowers and other participants using a desktops, tablets, or mobile devices.